The secret is out. Remote work is a damn good setup for workers. I'm on my third remote job. And I love it.
Remote work is all the rage right now for a simple reason: it makes the chaos of every day life a little more manageable.
It's also good for your career.
It's good for reducing stress.
It's good for spending more time with people you care about.
I'm not the only one that thinks this. In the annual State of Remote Work survey, Buffer found that remote workers overwhelmingly were a content bunch:
In its State of Remote Work survey, social media management company Buffer found that 99 percent of remote workers would like to continue working remotely at least part of the time for the rest of their careers, and 95 percent would recommend it to others.
While headlines about robots taking our jobs dominate the future of work narrative, remote and flexible work is the future of work. Digital communication platforms, technology-savvy leadership, and new business models have created the infrastructure for remote work cultures and we're not going back.
Flexible work, remote work, location independence, oh my
I get asked a lot about how I got my three remote jobs. It's impossible to put it all into a single Facebook post or even a single coaching session. So it's all going into this super mega post on how to get a remote job.
Facebook groups for working moms, digital nomads, travelers, and tech workers are filled with questions about how to find remote work. The answers usually advise people to start their own company, freelance, or cobble together gig work on Upwork.
Those are all valid ways to start a remote lifestyle. But this is a guide to help you get a full time remote job with a legit remote-friendly company. It's not about starting your own business to be location independent or freelancing for digital nomads. If you're into that, there are so many Facebook groups and programs that will help you learn how to do that.
Instead, this post is a straight up information dump for people seeking full time remote jobs, the kind with benefits and all the good stuff that comes with working a full time job.
Let's get started.
A few definitions
Here are the most used terms when talking about remote work:
Remote job: A type of job that can be done from anywhere. Some remote workers might be required to live close to the company HQ or be located in a specific geographic region. Or on a specific time zone. But a remote job has no requirement to travel to a physical location daily.
Fully distributed teams: A type of organization where everyone in the company works remotely (distributed), from the leadership to support teams. Also known as a remote-first company.
Partially distributed teams: A type of organization that has remote teams, but not everyone works remotely (partially distributed). These organizations are often referred to as a remote-friendly company.
Flexible work: Refers to a job with flexible hours, meaning you are not required to be present/online between traditional 9-5 working hours. While some remote jobs have flexible hours, others might require you to be online during certain hours. Flexible work isn't always remote work, but they are often combined.
WFH: Work from Home, a throwback term from Craigslist job postings that you couldn't really trust ("WFH and make $1000 a week!"). It's a term still in use today, used interchangeably with remote work: you do your work from home, pants optional. It's also a benefit if you work in a 9-5 job. Some companies may offer WFH days once a week. If you're negotiating for a new job, ask for one or two WFH days a week.
Location independent: A lifestyle or career goal. Location independence means simply the ability to work from anywhere. The work you do isn't as important as the fact that you don't have a permanent work location. Often conjures up images of working from a beach.
Start with a competitive mindest
The remote work lifestyle is good. People want remote jobs which means this is a competitive process.
At baseline, any job search is competitive. The average (non-remote) job post gets over 200 applications. Recruiters are overwhelmed with applications:
But the remote job search is fiercely competitive.
That means you have to do far more work to position yourself and stand out to remote employers. There are more people who want to work remotely than there are remote jobs. So it's going to take time.
You're not going to get a remote job by just submitting your standard resume to every remote job posting you see. You have to do more than submit resumes online. I'll cover how to stand out in the remote job search in a bit. But first, we need to talk about types of remote work.
Types of remote jobs
A quick look at any remote job search site and you'll see there are three types of remote jobs: Hardcore tech, tech adjacent, and non tech jobs.
Let me be clear here, you will have to use some tech in your remote job. Digital communication tools like Slack, Zoom, Trello, are all tech tools. But the categories above refer to the act of building technology products in your job.
Hardcore tech jobs build tech products.
Tech adjacent jobs support the process of building tech products.
Non tech jobs are uninvolved in the building of technical products.
These aren't official definitions. But most remote job boards are dominated by hardcore tech jobs: software developers and engineers, data scientists, product managers, etc.
Although you'll see many hardcore tech jobs, there are loads tech-adjacent and non-tech jobs if you know where to look.
Tech adjacent and non-tech remote jobs
A quick look at job boards and it's easy to think that only software engineers are hired remotely. While programmers and developers are in high demand for remote jobs there are plenty of other jobs for remote workers.
In-demand roles for remote work include:
But it's not just limited to those roles. Some companies offer remote opportunities that are specific to their company's services. Consider Appen, a "global leader in speech and search technology services. With expertise in more than 150 languages, Appen partners with leading technology and e-commerce companies as they develop new offerings and expand them to global markets."
If you're bilingual, Appen is an ideal company. They offer jobs with flexible hours, contact remote work, and full time remote work.
Recently posted remote work at Appen:
Social media evaluator (help improve social media around the world)
Transcriber
Linguistic Specialties (Text to Speech, Computational, Phonetics, Pronunciation, Annotation, etc.)
Know your role and skills
Your goal before you even begin your remote job search is to figure out where you fit in the remote space. Reflect on these questions:
What type of remote work are you looking for (contract, part time, full time, a remote job with a remote first team, a remote job on a partially distributed team?)
What type of roles is your background a match for?
What skills make you an ideal remote worker?
How does your current skill set qualify you for the remote job you want?
What value do you add to any team/company?
If you don't know the answers, you aren't competitive enough to apply for a remote job. Knowing your target roles, skill set, and how you add value to any team/company makes you a competitive candidate.
To qualify for a remote job you need to show that you have excellent communication skills, independent work motivation, and comfort with digital skills.
You also need a baseline comfort with digital communication tools. Digital communication tools vary by company. Collaboration software, video conferencing, and project management tools are all part of the digital skill set. Some examples are:
Trello/Basecamp/Jira
G-Suite/Google Drive
Slack
Google Hangouts/Skype/Zoom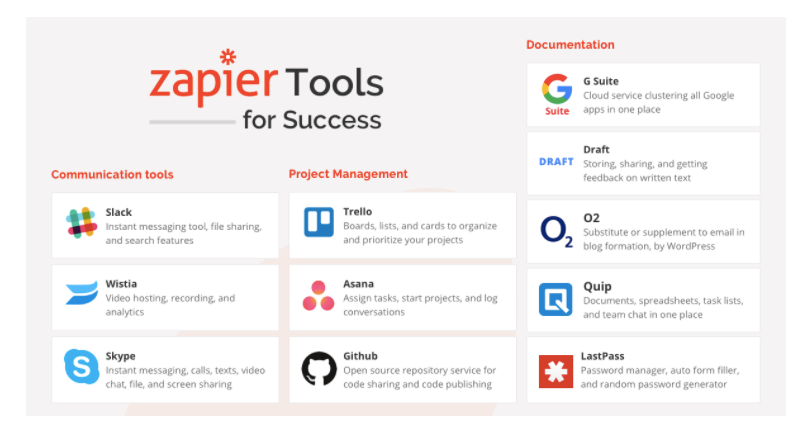 You don't have to master these tools to get a remote job. But you do need a basic familiarity. If these don't stand out to you, watch a video to learn more about the tool. Example: This Slack Tutorial

Go further than passive learning. Find someone in your current company or a friend who knows the tool. Ask them to walk you through it and how they use the tool in their workday.
BONUS READING: 18 Essential Tools for Remote Work
BONUS READING #2: Remote companies share the traits they look for in candidates for a remote job
Now that you know what you can do, let's talk about your remote job search strategy.
The remote job search strategy
There are two ways to find a remote job:
Find remote-first or remote-friendly companies and figure out which jobs you qualify for.
Spend your time searching for remote jobs on job search platforms and apply to jobs that you're qualified for.
Either approach works. Some people do both. What matters most is that your strategy incorporates commitment and organization.
Company-first approach
If you choose the first approach, commit to researching 20 remote-friendly companies a week. Your list will get huge, so keep a spreadsheet of your research to keep your organized.
You may not find a job opening that you're qualified for at first. That's ok. If the company interests you, put them on the list and check back in a few weeks.
Some companies allow you to sign up to get notified when new positions are posted. If that's an option, plop your email in there and make your life easier.
The benefit of this approach is that you get to know the companies better. A lot of remote companies, especially those that are fully remote, have unique company cultures. Some include yearly retreats where they fly workers to international locations so they get face time with each other. Others include a coworking space stipend or learning stipend.
Since a lot of remote-first companies aren't consumer names, this approach also helps you learn about the company products and services. If you want to stand out in the remote job search, you have to study the companies like you'd study for an exam.
You need a basic understanding of what services/products they offer, the market they are serving, and general terminology used in their industry. Researching company websites helps with that.
List of companies that hire remote workers
The internet has already been hard at work creating lists of companies that hire remote workers. So I'm not going to duplicate the already solid research efforts out there.
Instead, I'll offer a list of lists of companies that hire remote workers.
On these lists are remote-friendly and remote-first companies. Explore with abandon but keep yourself organized!
And lastly, this is the most comprehensive list of lists: Huge list of companies that hire remotely, but also includes everything else you can imagine about remote work: remote jobs engineers, articles, interview tips, podcasts, etc. It's a rabbit whole of remote work resources.
Remote job search site approach
The most common way to find remote jobs is by camping out on the remote job search sites.
The days of searching sketchy craigslist WFH opportunities are over. There are multiple, legitimate sites specifically for remote jobs, employers, and workers. Some sites curate their job openings. Other sites build large communities of remote workers, especially the global nomads. They're legit.
The sites below offers roles that span industries and functions. Filter by job type.
Niche Remote Work Job Boards
Idealist – For non-profit and social impact opportunities; they have a remote filter
AngelList – Remote jobs and internships at startups
Dribble – For creatives (use the Remote and Full time filter to avoid freelance jobs)
Paid service
Flexjobs.com – This is a paid service. But you can search and see the company results. Then just hop on over to Google to find their jobs page to get around the subscription fee.
And if none of these work for you, use the term "remote" or "virtual" in major job search engines like Indeed.com or Linkedin. If you're not sure if a post is legit, research the company further. Check their website, find out how long they've been in business, and check their social sites. See who their employees are on LinkedIn and verify their product/services. If it sounds too good to be true (Make $2,000 a week working from home!) it likely is.
And now for a list of lists: 60 Remote Job Websites (note: does include freelance/gig sites)
LinkedIn also has a remote filter. Try it out.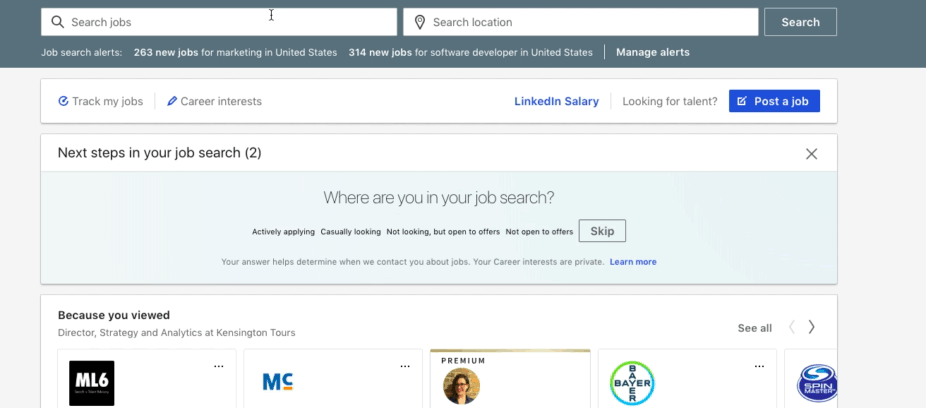 Make sure it's a legit remote job
Even though we're in the glory days of legit remote jobs, there are still plenty of WFH scams. Here's how to know the legit from the scam.
You should not have to pay to find a remote job: There are plenty of remote jobs out there. You don't have to pay someone to find you one. Nor should you have to make a purchase and get reimbursed before you are officially hired (official: signed contract, interview rounds, etc).
You shouldn't have to offer personal details (maiden name, credit card, social security number, bank account information, etc): If you are being asked for specific information that is unrelated to your ability to do a job, and you haven't been offered a job, it is likely an identify theft scam.
Do your due diligence. Not sure about a company or job? Trust your gut and then research the shit out of them. Look them up on LinkedIn. Look to see they have legitimate employees, complete LinkedIn profiles, and other employees who are remote. Check their social media feeds and their corporate websites.
Generic jobs that promise you will make $1000 a week doing (X) with no experience are not legit: While these may or may not be scams, they are sure to disappoint.
Avoid the DMs: This is advice for Facebook groups. I've seen several shady people inviting people into DMs for a further talk about WFH jobs. Some might be legit but others aren't. If someone promises you a remote job in a Facebook group, don't take it to the DMs. Ask for the public posting. If that's not the case, connect through LinkedIn where you can better vet them.
That said, don't trust all links: A common WFH scam is a link to a fake company page. If you see a link, Google the company and go to their jobs/career site, then navigate to the opening. If you don't see it there, it's likely a scam.
BONUS READING: Work-From-Home Scams
Find your fit in the remote work space
It might not be ovvious at first where you fit in the remote work space. Allow yourself time to explore. Get to know the types of companies hiring remote workers.
Commit to ten minutes a day to read through remote job postings. Note which jobs you could be a fit for based on your experience. Pay attention to the types of skills that people are looking for in remote jobs. If you don't have the skills, make a plan to get them.

If you find a role where you the responsibilities and skills needed aren't clear, look up the job title on Payscale. Payscale's research feature shows a role's average salary, career trajectory, and in-demand skills. It's a useful tool to help you understand the full scope of a role.
Don't see a fit?
Most remote jobs boards have an "other" filter. There's always interesting positions posted in these categories.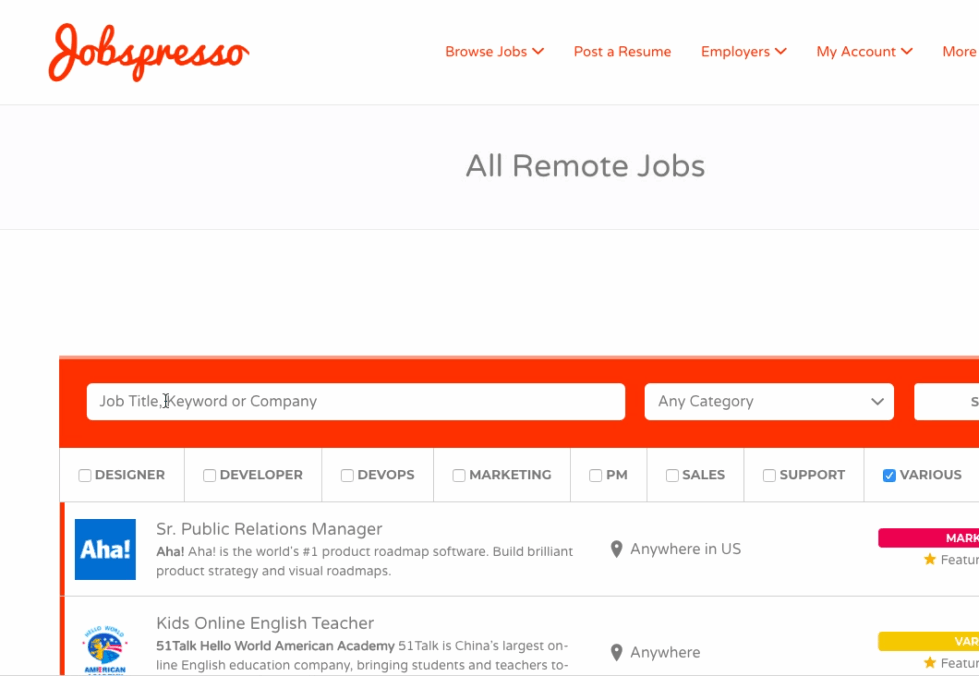 Present your best digital self
A digital presence helps remote employers get to know you. It also helps you stand out.
Remote job candidates need three things: Professional documents, a digital identity, and a professional story.
Professional documents
The resume and cover letter aren't dead yet. I certainly wish they were. But they're not. Since sophisticated automated systems are increasingly scanning your resumes, you need a plan to beat them.
Jobscan.co is a tool that uses artificial intelligence to help you beat the ATS system. You'll get a score and feedback on how you've communicated your skills and experience for the job you're applying to.
Use Jobscan to make sure your resume is written well for the job you are applying to. It's like having a free resume review.
Build your digital self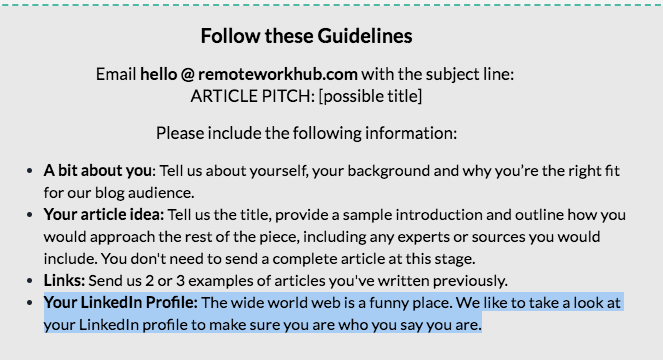 Future employers will Google potential remote workers. After all remote work is built on trust. If they can't verify you're real beyond a resume, they're going to be unsure about hiring you. (Employers don't want to get catfished).
To compete for remote jobs, you need a digital presence. Start by building:
LinkedIn
A professional Twitter profile (not the one you use with all your friends)
Personal websites/digital portfolio
Read up on what to put in. your professional website.
Your professional story
Companies that hire remote workers want to know about you. They want to know the type of person that they're hiring onto their team. They're curious about your motivations and reasons for working remotely. A good professional story communicates your interests and motivations. Professional stories are often called elevator pitches. But elevator pitches are salesy and rarely authentic. Instead, professional stories are used to talk to people about your genuine interests.
Stand out in the remote job search
Once you've found opportunities and created your digital self, it's time to apply and get noticed. This is actually the hardest part. Here's how to get noticed.
Don't apply through job search websites
Avoid applying on the remote job search websites. Instead, apply directly on the company's website. Find the name of the recruiter or hiring manager by researching LinkedIn. Research the type of products or services the company offers and make sure you're using the right language on your professional documents. Yes, this adds more work to your job search. But in a pile of resumes, little details like this make a difference in getting seen.
Pay attention to the company's employees on LinkedIn
Every time you look at a recruiter's LinkedIn page, they'll get notified, which means they may look at your profile. Follow recruiters from companies you want to work. Look up the hiring manger or head of the department you'd like to work in. Look up people who work on the teams where you'd like to work. Reach out to team members and ask for a quick chat to learn about what it's like to work remotely on their team. You'll get noticed, position yourself for an internal referral, and show off your communication skills.
Engage with the recruiter
Send an email asking the recruiter questions about the role/team. Include your personal website or LinkedIn profile in the email message so they can easily see you. This is an easy way to engage.
Talk about the company's work
If you write your own blog or host a podcast, talk about the company. Then tag the company on social media so they see your thoughts. If they reach out to you, mention that you've just applied and tell them what work you'd like to do.

Attend an industry or learning event in your city
You never know where a conversation might lead. Telling people at industry events that you're open to remote work could easily lead to your next gig. Ask people that you meet about their experience, the company they work for, and what they enjoy about their work.
If it sounds like a place you'd like to work, ask the person if their company considers remote work. If they do, tell them your story and ask them to let you know if it comes up. It seems like a bold move. But so many companies have internal referral programs that the person you're talking to might just pass your resume along to make a few hundred dollars.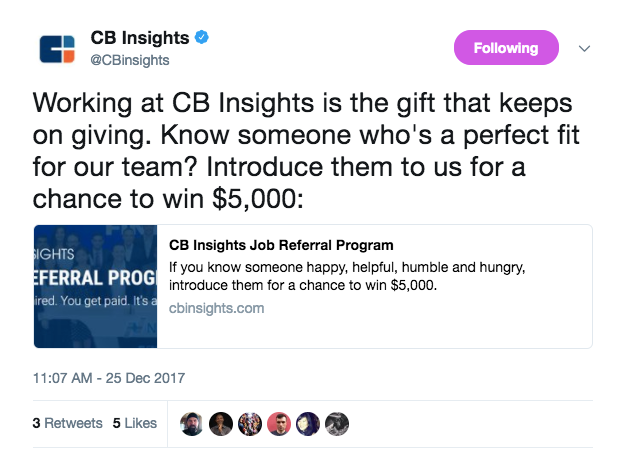 Remote jobs and flexible work are the future
It may take some time to find a remote job. They are competitive and if it's your first remote job, you may have to spend more time persuading employers you are qualified for the job.
So keep at it. Don't give up. Keep refining your target, know what you're good at. Study the remote-friendly companies like you'd study for a test. Find creative ways to persuade employers your the right choice for the job. If you need to build skills for remote work, find ways to build them (online courses, bootcamps, etc).
And if you can't get a remote job just yet, have a conversation with your boss. Ask them if you can work from home for one or two days a week.
Curious about the future of work and how to change careers? I wrote a book for you.
Get on the book launch list (with upcoming online workshops!) here.